Proflame Gas Burners are a new and innovative heat source for buffet chafers or mobile cookers and makes the use of unsafe traditional gel or alchohol based buffet burners for chafing dishes obsolete.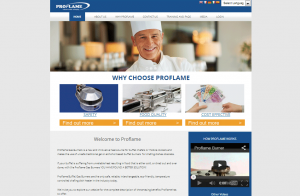 Proflame Buffet Gas Burners are the only safe, reliable, interchangeable, eco-friendly, temperature controlled chafing dish heater in the industry today.
The new Proflame website has restricted content areas for Proflame's customers and distributors, which require the user to be logged in to access. This functionality was an essential part of the transition from their old website to their new, streamlined one – which mirrors part of their tagline – "Clean, Safe, Simple".
Get A Quote
Phone us on
051-440425
,
01 905 8114
or if you'd prefer you can fill out our 'Get a Quote' form below and we will be in touch very soon.
Data Protection Notice:
The information you supply to 2Cubed through this form will be held and used by us solely for the purpose of responding to your request and will not be retained for any other purpose. Please ensure your details are correct before clicking send.