Jennifer and Ronan at 2 cubed have provided loads of support and created an excellent new website for us:
I arrived into Solar Electric Ireland from a large German based company with a brief to move the corporate identity forward and reflect the growing business to business element of the company.
One key element to improve was the website. The enquiry numbers and Google ranking were great but the look and feel were of a smaller company with a focus on domestic projects.
Wexford Local Enterprise Office offered to support our investment and they needed to see that we had 3 proposals. They put forward 2 cubed as a possible local supplier.
From the first meeting to the switch over 4 weeks later everything went well. Ronan shares my love of good grammar so we spent some time being pedantic about the text. We had enough quality photographs but probably could have used more.
We now have a website which reflects our position as the leading supplier of solar PV in the Republic of Ireland. We now need to keep it fresh with regular updates and new case studies.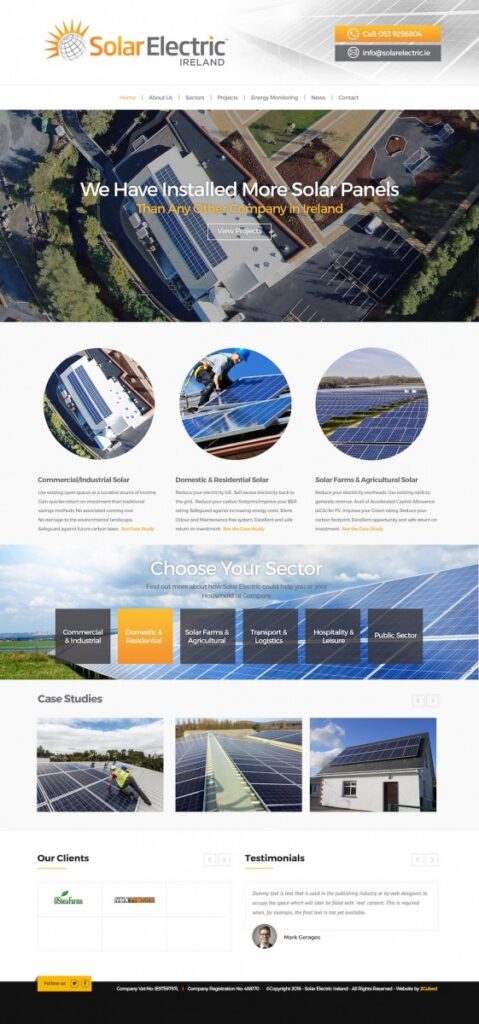 Get A Quote
Phone us on
051-440425
,
01 905 8114
or if you'd prefer you can fill out our 'Get a Quote' form below and we will be in touch very soon.
Data Protection Notice:
The information you supply to 2Cubed through this form will be held and used by us solely for the purpose of responding to your request and will not be retained for any other purpose. Please ensure your details are correct before clicking send.