Progressive Web Apps (PWAs)
PWAs are a new way to build websites that are faster, easier to use and more secure. They are built on the latest web technologies and are designed to be installed on a user's mobile device. They are a great way to get your website into the hands of users and to help them get the most out of your website.
The Future of Web Development
PWA Developers Dublin
Customer-centric user experience is at the forefront of innovation within website design and web development like never before. Also, the importance of mobile responsiveness is key to ranking on the first page of the search results and keeping up with Google's ever-changing algorithms. Progressive Web Apps (PWA's) allow for all the functionality of a mobile app but there's no need to download it. Whatsmore, it can be easily accessed from any device, just like a website. How would your customers feel while interacting with your business online with a highly personalised experience as they browse your countless products and excellent services? Imagine the impact that would have.
Web Design
We design tasteful, functional websites that are designed for and around your company.
eCommerce Websites
We specialise in eCommerce websites using services such as Woocommerce or Shopify.
Responsive Design
We produce fully responsive mobile-friendly websites helping customers purchase with confidence.
UI/UX Design
We understand UX/UI design is fundamental to keeping users on your website for longer.
Expert Guidance
We guide our clients on all areas of their online business. From using the backend of their website to SEO.
WordPress
We use the market leader WordPress as our content management system (CMS) of choice.
Bespoke
We pride ourselves in delivering bespoke website design to each and every one of our customers.
Mobile Friendly
Designing your websites to be mobile friendly ensures that your pages perform well on all devices.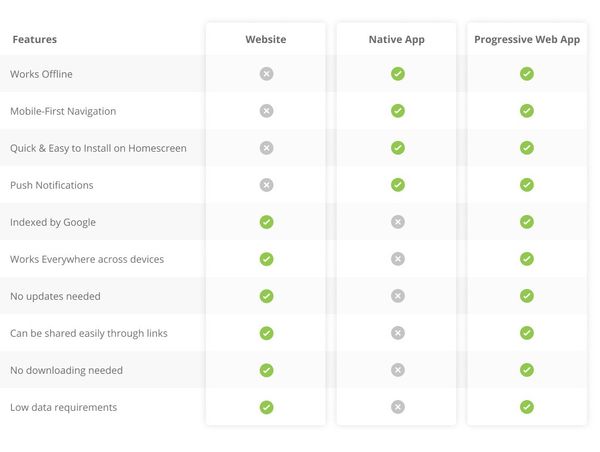 Use web development to serve your business needs
Progressive Web Apps vs Native Apps vs Websites
The main difference between progressive web apps vs native apps is that a native app is developed to run on mobile devices while PWAs are built to run on web browsers like Chrome or Safari. Then, the main differences between a PWA and a website are that the PWA can work offline, is built with mobile-first in mind, can be easily installed on the home screen and more. The table below highlights all of the differences and some of the great features to benefit your business by investing in a PWA.
Read More about PWAs here
How do PWAs benefit your business?
Web development with a difference
PWAs can transform the way in which clients interact with your online business, increase sales and drive repeat custom. Some of the benefits of investing in PWA development for your business:
Works offline

Quick and easy to install on the home screen

Mobile-first navigation

Works everywhere, across all devices

Quickly apply updates

Can be shared through links

Low data requirements

Able to be highly personalised

Easily indexed by Google
All of these features of progressive web apps make for a better overall user experience which helps to rank your PWA, therefore, brings your business higher up within Google searches.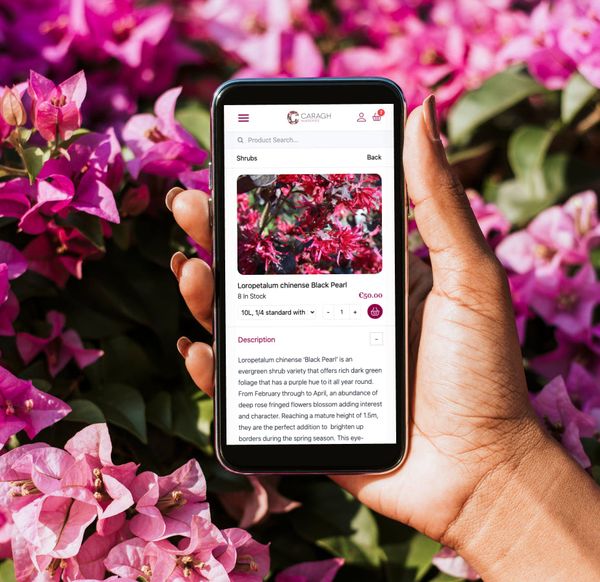 Case Study
Caragh Nurseries PWA
Recently here at 2Cubed, we developed a highly functioning PWA for our clients, Caragh Nurseries. As the leading grower of plants and trees in Ireland, they already have a powerful eCommerce website that we maintain and update, but they wanted a PWA developed to bring a new dimension to their company. Some of the features of their progressive web app are that there is a QR scanner, it is search engine optimised and can be easily signed-in in from Google. To read more about how Caragh Nurseries app, click the link below.
Read Case Study
Frequently Asked Questions
What is a progressive web app?
What is the difference between a web app and a progressive web app?
What can a progressive web app do for my business?
Do I need Progressive web app?
What are the benefits of PWA?
Can I have a PWA and a website?