Headless CMS
As your business expands and users adapt their habits to using a wider range of technology, going headless can allow you to stay one step ahead of the competition.
Web Design Quote
What is it?
Decoupled / Headless CMS's
Take your business beyond the usual limits of a traditional website content management system and reap the benefits Headless CMS has to offer. Why are more and more businesses considering switching from a traditional website content management system to Headless CMS? Headless CMS isn't something new, but it can transform the way in which your business is seen online and it is becoming increasingly popular due to its super fast loading times, mobile-first design and ease of scalability.
Web Development
We offer cost-effective bespoke website applications specially developed for your business.
Api Development
We are experts in API Development, connecting software, making doing business easier for our clients.
Security
Our security systems are tried and tested to ensure your website is safe.
Progressive Web Apps
PWA'a are a new way to build web apps that are faster, more secure, and more accessible.
What is Traditional CMS?
A traditional CMS combines the frontend (what the customers see, where the design sits) and the backend (the server & database ) together they can only be served from one server and generally have themes or templates. The most notable features of traditional CMS are:
Saved to a database such as PHP.
The frontend can only display according to the presentation template designed.
Content is added through text editors or a WYSIWYG (what you see is what you get) editor.
What is Headless CMS?
Headless content systems work by not having a single presentation layer (frontend) and the backend acts as a place where content is stored. Then the content is pushed to any device, or platform via an API. This means that you choose where you want your content to go, maybe it's an app, website or PWA or you'd like it to show on smart watches, mobiles and desktop. This is where the real value of choosing headless CMS comes in, with this CMS you can have a single touchpoint or many across all areas of the web.
What are the differences between a traditional CMS and headless CMS?
| | Traditional CMS | Headless CMS Web Development |
| --- | --- | --- |
| Where can content be seen? | Only on a single page of a website. | Omnichannel approach – website, mobile app, smart watch, digital assistant, PWA, anywhere! |
| How can content be adapted to device type? | One template which is made responsive. | Presentation is device based – content first model – channel focus. |
| How are updates made? | Through scheduling plug-in updates. | Continuous updates are running in the background. |
| How much of an investment difference is there? | Less cost up-front, hosting costs grow, if business needs increase. | Larger up-front investment, easily scalable no matter what the business size. |
| What's the backend system like? | All-in-one, WYSIWYG. | Best-in-class, unstructured content blocks. |
| How does the reach of the content differ? | One-to-one, backend and frontend linked. | One-to-many, backend and frontend decoupled. |
| Where is it hosted? | On a server, in-house, in a physical location. | In the cloud, served from the nearest server. |
Benefits of a Headless CMS Website Development?
It can display content anywhere, such as on the web, iOS apps, eCommerce, Android apps or even on smartwatches and on digital assistants.
Content is not set to a specific template, theme or layout allowing it to be displayed in the best possible way across all devices.
Headless CMS by nature integrates with new technologies easily, futureproofing any efforts made.
Designers and developers can work on headless CMS web design projects simultaneously, speeding up the entire website build process.
Making the right decision as to which CMS to choose is really important, maybe you're considering your options or unsure of which CMS is right for your next digital project?
Get in touch and our expert digital consultant Jennifer will talk you through which CMS is best for your business requirements.
Tools of the Trade
Some of the Headless CMS's we use.




Website Performance Checker
How fast does your website load for your customers? Run the free test to see if you could benefit from using a headless CMS.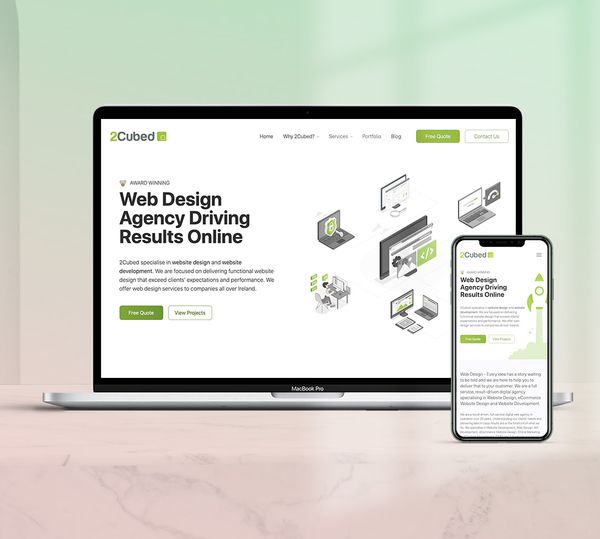 Who Uses Headless CMS?
We do! Here at 2Cubed we have just launched our brand new website which uses a headless content management system. We chose to go down this route because we know how technology evolves so quickly and think that this is going to be the fastest and easiest way to save on time and cost in the long run, and future proof any efforts we have made as it adapts easily to new technology. Headless CMS development is secure as the frontend and backend are separate, meaning that it is virtually impossible to hack. We decided to move our new website to a headless CMS over a traditional content management system as our content can now be displayed across multiple different digital touchpoints and as the technology has super fast loading speeds and looks great on mobile, it ranks very highly on Google.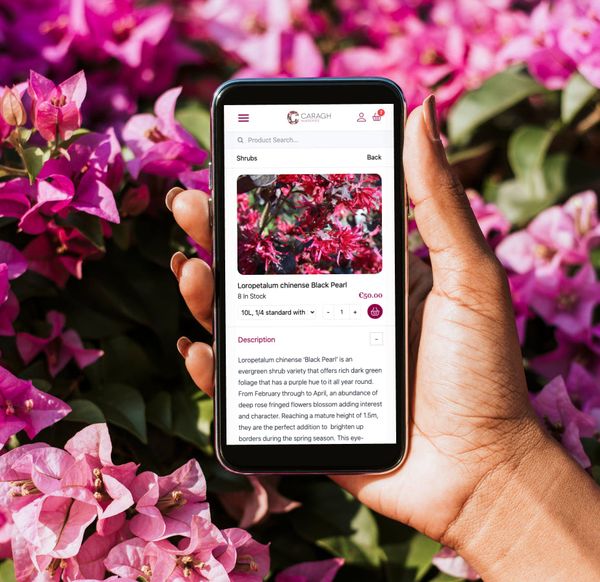 Caragh Nurseries
Caragh Nurseries is also an outstanding example of how headless CMS can be used. The leading grower of plants and trees in Ireland already has a robust and vast eCommerce website built on a traditional CMS, but wanted to add to their digital touchpoints and enhance their already strong customer experience. They commissioned us to build their progressive web app (PWA), check it out here. With the backend pushing content through an API to the web, it means the app is usable with very little or no wifi or data which is perfect for when their customers are walking around the nurseries and adding products to their cart. These products are then paid for at the till. It's the perfect combination of virtual and in-person shopping which also can be indexed on search engines.
Frequently Asked Questions
What is a headless CMS?
Headless CMS is when your content management system (back-end) is used to just manage data and does not have a templating or presentation layer. The front end that the user sees is usually hosted somewhere else. Headless CMS data is passed via an API and can be used on any device that has a front-end eg. websites, apps or smartwatches.
Would it be beneficial to use headless CMS?
Headless CMS isn't something new, but it can transform the way in which your business is seen online and it is becoming increasingly popular due to its super fast loading times, reliability, scalability and improved security.