Website Development
Award winning
Website Development
2Cubed has been leading website development in Wexford and Dublin for over 20 years and continues to win business nationally and internationally. 2Cubed has a team of senior website developers, ensuring we have the best skill set for our customers. We have successfully grown and developed our skill set in website development here in Wexford and Dublin over the years moving with the fast nature of Website Development.
Website Maintenance
We provide complete website management and web maintenance services.
Responsive Design
We produce fully responsive mobile-friendly websites helping customers purchase with confidence.
WordPress
We use the market leader WordPress as our content management system (CMS) of choice.
Bespoke
We pride ourselves in delivering bespoke website design to each and every one of our customers.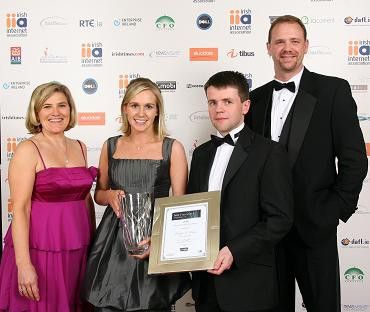 Irish Website Development
Winners of the IIA Visionary Award
Winner of the IIA Net Visionary Award, 2Cubed Website Developers is an Irish website development company offering cost-effective bespoke website applications specially developed for your business. We use the absolute latest technologies in developing customised software for your website allowing you to conduct business online more effectively.  Jennifer's background is in Commercial Software Engineering with over 20 years of experience building bespoke website solutions requiring bespoke programming and project management.
2Cubed has been leading web development in Wexford and Dublin using API Integrations with WordPress and WooCommerce, Intranet development, Database Development, Progressive Web Apps (PWA), Netlify and Nuxt to develop the fastest solutions on the internet.
Custom Built Software & Database Development
We develop custom-built software for your company using bespoke website coding and website development. All of our software is built to your specification, helping you to save resources and become more efficient online. The opportunity in utilising web software in business today is fundamental to growth. Companies and Small Businesses can gain much efficiency by taking a simple task and presenting it online. This allows staff and other resources the freedom to complete other tasks allowing your website to promote your brand online. We believe that a website should be integrated into business as more than just another form of compliance, but a way of growing your business, and increasing market share and margins.
Custom-built web software and website development can start small and grow stage-by-stage. We offer scalable solutions that allow you to use your website as a building block. All modules can be turned on or off at any given time. All code used for developing your software is an asset to your company and we will help you to protect it. Also, we have platforms that will support many devices. So if you are looking for Mobile phone compatible websites, we can do it too.
Third-Party Integrations
2Cubed specialise in a wide range of custom integrations, giving businesses modern and efficient process website solutions. Many integrations require a level of bespoke work and this is where we can assist you. We have worked with a number of integrations, APIs and third-party solutions. From payment solutions for e-Commerce websites to custom built solutions to integrate with your CRM or CMS, our specialists are on-hand to advise and help you plan.
Freaquently Asked Questions
Does my business need a website?
How long would it take to develop a website?
Can I expect a custom built website suitable for my business needs?
Can I get my current website redesigned?
Can 2Cubed design a website to my specifications?
Do I need to provide all the content for my website?
Once my website is live do 2Cubed offer any guidance or assistance?
Do I need to have a logo and brand guidelines before a website?