When you are deciding on a new website, it's important to take into consideration a number of factors. As you can see in the graphic below, we've created a simple process to assist with this.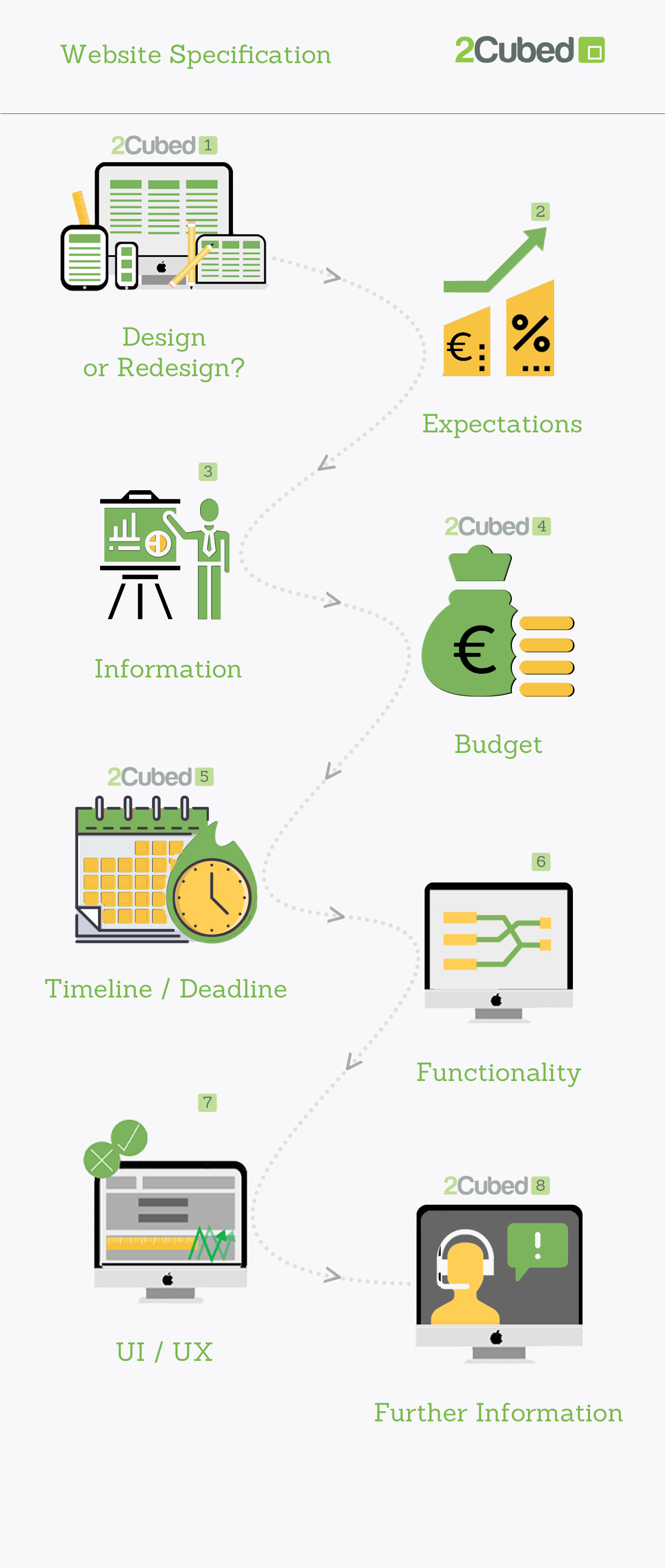 This planning process is critical to ensure you have a clear picture in mind for a new website. Failing to cover these steps before a website is created can lead to items or processes being overlooked and cause problems down the line.
At 2Cubed, we want to ensure you have a clear picture in mind when considering a new website and we can assist you fully with this process to ensure success.
What to consider?
Planning and building a new website is a complicated matter. Items can be overlooked when a specification is not clear. A good starting point is to look at some websites you admire and list why you think so.
Design or Redesign?
Are you looking for a completely new design or a refresh of what you currently have?
Expectations
It's crucial to consider your expectations when planning a new website build. What is it that you are looking to achieve with the new site? Do you have any goals or ambitions for what you're looking to achieve?
Information
What is your company all about? By documenting this, you can make it clear to your web design agency what you are all about and by using taglines, slogans, mottos etc to allow end users to understand your ethos.
Budget
A new website is a huge investment and you'll need to ensure you consider this carefully when developing a website specification. Defining a budget allows your agency to consider the expectations vs budget and help you plan accordingly.
Timeline / Deadline
Deadlines are a crucial area of the website specification. Setting a deadline firstly allows the entire project to be split into separate deliverables to keep all parties on the same page and to also ensure your expectations are met.
Functionality
Will your website users need to register? Are you selling products? At this point, it's beneficial to consider each and every element.
UI / UX
After you decide on budgets, timelines and functionality, how will this all transition into front end user interface and user experience? Many times, consideration of these factors is left aside and may become an issue in future as the website is out to the world.
Further Information
Thinking about any extra information or off-topic items considered outside the above ensures clarity when moving forward with your web design project.
At 2Cubed Web Design & Development, we are on hand to assist you with developing your website specification, helping you to understand in detail what's involved in a new website project. We also offer a number of services to help you grow your online presence. Check out our list of services – https://2cubed.ie/services/
Contact us today for more information on the services we provide – Contact Us