Caragh Nurseries App
Caragh Nurseries commissioned bespoke web design and web development for their brand new, super fast Progressive Web App.  As Ireland's leading grower of plants and trees, Caragh Nurseries based in Naas, Co. Kildare know how to bring nature into your life. Quality and knowledge are at the core of everything they do. From outdoor design to plants and products, they guide their customers with care through every step of the garden creation journey. Not sure what kind of tree would grow well in your garden, the expert team at Caragh Nurseries will advise you on the practicalities of what will work for you. They also offer a range of services, garden decor and accessories.
Their current website is an ecommerce dream, showcasing 100s of products including trees, plants, shrubs, hedging, pots, furniture and accessories that can all be delivered to your door with ease. 
Visit Live Site
Client Brief
Caragh Nurseries already have an ultra-fast, highly-functioning, powerful ecommerce website that can handle high volumes of traffic, however, they wanted to give their clients the ultimate customer experience. A place where lovers of all things trees, plants and gardens can go and not only find a wealth of information but take a journey around the nurseries, earning rewards as they go. 
After consulting with our resident digital expert Jennifer, Caragh Nurseries decided that the only viable solution to house all of the functions they wanted in one place was to commission a custom, bespoke Progressive Web App (PWA) to be designed and built.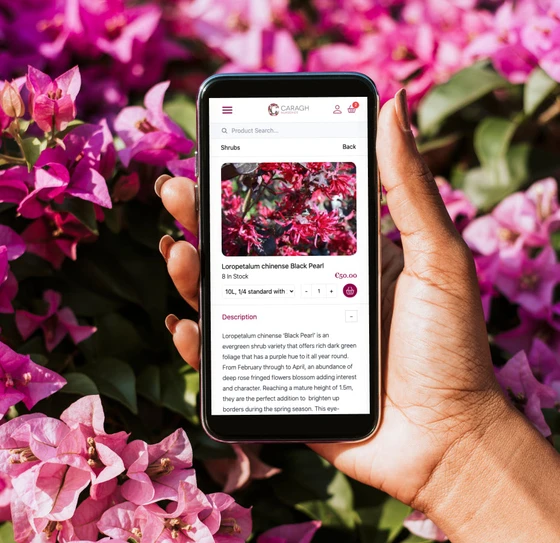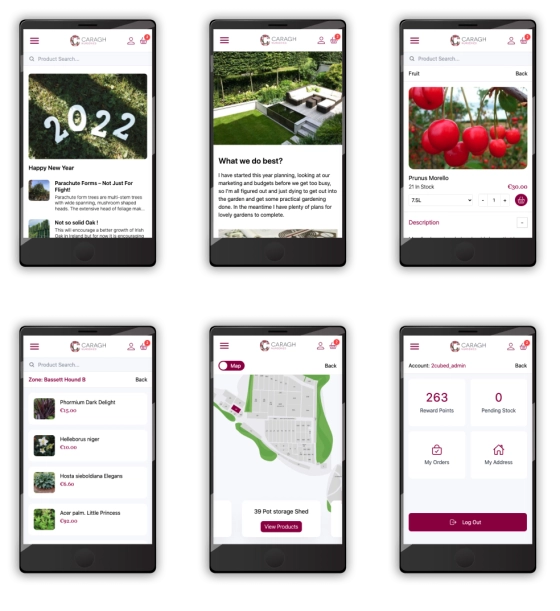 Solution
Caragh Nurseries Progressive Web App (PWA) is the super-charged, customer-centric digital asset every business dreams of owning. There is a journal full of top tips and advice on when to plant, how trees grow, flourish and much more. The PWA allows individuals to interactively navigate the nursery on a virtual map and scan a QR code of the product they want to buy. All without downloading an app from the apps store and with the ease of logging on through their Google accounts.
Some of the awesome functions that were designed and developed were: 
QR Scanner

UX & UI Design

Application Architecture

API Development

Connecting Complex Systems

Search Engine Optimisation (SEO)

Interface Design

Stock, Order and Dispatch Management

Interactive Map

Sign-In with Google

Rewards Points System
To find out more about why top brands use PWAs click here.
Progressive Web Apps
PWA's - The Future of Web Development
If you want to go to the next level with your online mobile presence and create an unforgettable customer experience a Progressive Web app is the way forward. An app as we know it is downloaded from the app store, accessed from the widget and downloaded onto your phone. A PWA is available across the web and accessible from multiple platforms.
Find out more
A PWA Solution For Your Website
There are millions upon millions of websites on Internet. How are you going to increase users and minimise bounce rate? 2Cubed is able to create a Progressive Web App for you that is responsive, safe, fast and user-friendly.
Get a Quote