Digital transformation is here to stay. It involves many areas to get right to ensure your business can thrive online. The trifecta of any digital marketing strategy is made up of owned, paid and earned media. Each one plays an important role within establishing and maintaining a strong digital presence. Let's take a look at the digital marketing media mix of owned, paid and earned media, and how it can help your business succeed with its online strategy.
What is Owned Media?
Owned Media is any digital asset that you own or control.
For example: 
A WordPress website

Blog

Email lists

Google Business Profile

Social media channels

A Web Progressive App

A native app
Owned media is where your digital assets belong. It's where all of your valuable content sits. It focuses on what your target audience likes to see and gives good information in the format that your customers prefer to consume. By engaging with people through excellent content, it will nurture them along the sales funnel, build relationships and strengthen return business. 
Recent customer retention stats note that most e-commerce businesses have a 25-30% rate of returning customers. This means the more valuable information about products you can provide, the more likely it will be to achieve repeat sales.
Content Management Systems (CMS)
Whatsmore, there are multiple options to choose from when looking for where to put your content. 
A content management system or a CMS is the software which your website uses. Options include; WordPress, Wix, Squarespace, or Shopify. So what are the differences:
WordPress:
Is the most popular CMS in the world. It has thousands of free plugins with excellent free versions. Here are some of its best features:
Elementor plugin, one of the world's best builders. 

Woocommmerce, the best and most powerful e-commerce solution for WordPress. 

Easy to make edits for any business owner.

Fully owned, a backup can be made and easily moved to another hosting service.

Highly customisable. 
At 2Cubed we also build bespoke extensions to a plugin to enhance the capabilities of WordPress.
Wix & Squarespace:
They are platforms which offer do-it-yourself website building. With a user-friendly builder, a beginner could create their own simple site with ease. 
The downside is that once on one of these platforms you cannot move your website. They also don't have as many features and functions as WordPress does.
Shopify: 
Is a well-known e-commerce solution for small businesses. It has lots of options and themes to choose from, it's easy to use and has powerful hosting. 
On the other hand, an individual app needs to be put onto the site for certain functionality depending on which theme is chosen. While each app has a limited free version, it's the paid monthly subscription version which enables the site to be used at its best. 
The.IE Domain Profile Report 2021 revealed that out of all the CMS available WordPress is by far the most popular with 78.7% of .ie domains being on the platform.

Why Is Content So Important?
Content is one of the most underrated areas of digital marketing in business as it is harder to measure return on investment than paid media and takes a lot of effort to build credibility. However, done well, this can be your gateway to building an amazing online community. A community that engage in, purchase and advocate for what you have on offer. Think, Gym & Coffee, The Happy Pear or Love Dublin to get an idea of how great content can positively impact your business. 
So, how can you improve the quality of your owned media? Take a look at our tips below:
Improve SEO (search engine optimisation) on your site, this will help searchability on Google. 

Use Google Business Profile, it especially helps local SEO and is great for customers to leave or read reviews.

Put a content marketing strategy in place, launch campaigns, and consistently post with a schedule on all relevant platforms.

Grow email lists, share news, events and offers to the people who want to hear about them the most.

Create a community on social media that wants to engage with your brand online.
What is Paid Media?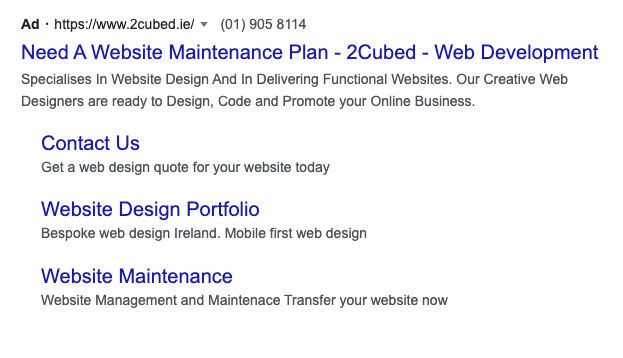 Paid Media is as it sounds, you pay for advertising. For example:
Google Ads, PPC (pay-per-click)

Social media ads

Influencer marketing

Promoted posts
Or in a more traditional sense:
TV or radio commercials

Print ads in newspapers, magazines, newsletters

Billboards
The great thing about paid media, when done correctly, is that it can place you directly in front of a new audience quickly. It can be used in a similar way to owned media to generate leads or raise awareness. It is also much easier to measure than organic digital marketing. 
One of the major drawbacks is if you stop investing in paid media your listing no longer appears. Also, over 50% of website traffic comes from organic search while just over 25% comes from paid. That doesn't mean paid advertising should be dismissed. On the contrary, when paid media is used as a part of a wider digital marketing strategy it has the best effect. 
This is why it is important to have all 3 media types in your digital marketing mix. At 2Cubed we use both Google Ads and social media ads on a regular basis as a part of our digital marketing strategy. We also offer paid media management to our valued customers. 
How can you improve your paid media efforts?
Optimise and maintain your Google Ads account.

Boost well performing posts on social media.

Include paid media within your overall digital marketing strategy.

Use clear CTAs.

Set specific goals and KPIs.
What is Earned Media?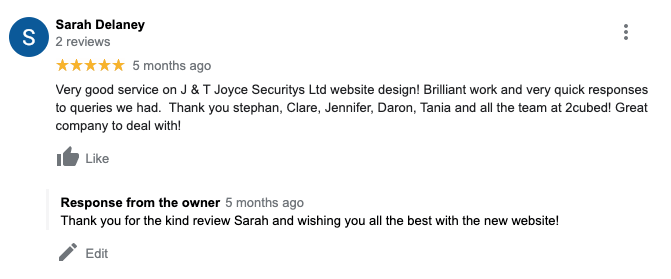 Earned Media comes from any platform that you do not own or pay for. It's kind of 'free', for example:
A social media mention or share from customers or other businesses

A review on any of the platforms

An influencer talks about your business without being paid

Word of mouth

Going viral
Earned media can reduce customer acquisition costs and is scalable. Customers respond well to earned media. The downside is that you don't have full control over what is actually being shared.
To use digital marketing to its full potential and grow your business, the sweet spot is to have the right mix of owned, paid and earned media. This will vary greatly depending on which industry you are in, whether you are B2C or B2B and where your audience resides.
At 2Cubed we offer full range of digital marketing services from content creation to paid ads and more. Our website design services are solution based and aim to get the possible result for your business. Contact our team of experts today to start your digital transformation.
General Enquiries – by using our contact form or by emailing hello@2cubed.ie. You can also avail of the LiveChat service on our website.