Last year, Microsoft shelled out a whopping $1.2 billion to acquire social media company Yammer, seeing it as a potential alternative to Facebook or even LinkedIn for businesses.
Yammer not only keeps you in contact with colleagues and people in your industry, but also allows for simple collaboration on projects letting you share files, documents, videos, etc. with relative ease. With apps for every device known to man, as well as integration with software like Sharepoint or SAP, Yammer is great for working on the go – essential when you're relaxing abroad with nothing more than your iPad to keep you company!
The folks behind it all claim that "companies using Yammer generate about 40 percent less email", and it's easy to see why as projects can be seamlessly tracked throughout a company, with different levels of privacy for the entire business from boss to employee.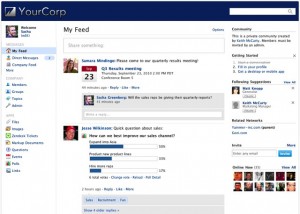 If all this sounds too good to be true, there is one catch. Yammer isn't free. But it's not too expensive either. Starting at $3 per user per month, it's not going to put a huge hole in your budget, especially when you consider the time that might be saved elsewhere. Also, the price point of $8 per user per month with Office 365 is quite an attractive one, especially if your business conducts a lot of its work in the cloud.
The only real negative about Yammer is that people and companies are slow to adapt to new ways. If you're used to using Skype to conference call or Google Docs to share and collaborate on projects, then switching to Yammer can seem like unnecessary expense and extra hassle. It really is a fantastic resource, but a company needs to put in the effort in the early stages to ensure that every employee is using it efficiently.