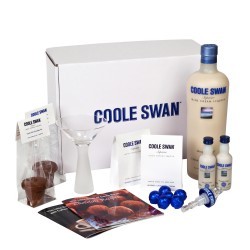 It's that time of year again – the countdown to Christmas is on, with children across Ireland scanning toy catalogues to make their Christmas lists. For those of us a little bit old for toys, there's something else we can add to our wishlists.
Award-winning Irish cream liqueur manufacturer Coole Swan have launched a beautiful hamper range for the 2015 Christmas Market, which contain a variety of items depending on budget – but all with their delicious Coole Swan superior Irish cream liqueur.
Coole Swan is based on a Family Farm one hour North of Dublin City on the Meath/Cavan border. They live and work on a real farm, so real in fact that their office is a converted sheep shed situated right in the middle of one of their meadows – where their cows and sheep graze come rain or shine.
Visit www.cooleswan.com to see the full range of hampers on offer.
Get A Quote
Phone us on
051-440425
,
01 905 8114
or if you'd prefer you can fill out our 'Get a Quote' form below and we will be in touch very soon.
Data Protection Notice:
The information you supply to 2Cubed through this form will be held and used by us solely for the purpose of responding to your request and will not be retained for any other purpose. Please ensure your details are correct before clicking send.